CNFC In The News
Bettering the lives of the Aboriginal community and educating the non-Aboriginal community in cultural awareness since 1962
The Canadian Native Friendship Centre (CNFC) helps aboriginal newcomers in Edmonton with referral services, social events and recreational programs.
7/20/2015 | Continue Reading
The Canadian Native Friendship Centre in now providing this free service for low-income individuals to do their income taxes at our office. This Community Income Tax Program will be on a drop-in basis at the Centre every Tuesdays, Wednesday's & Thursdays and will end May 31st, 2017.
La Leche League Canada Breastfeeding Program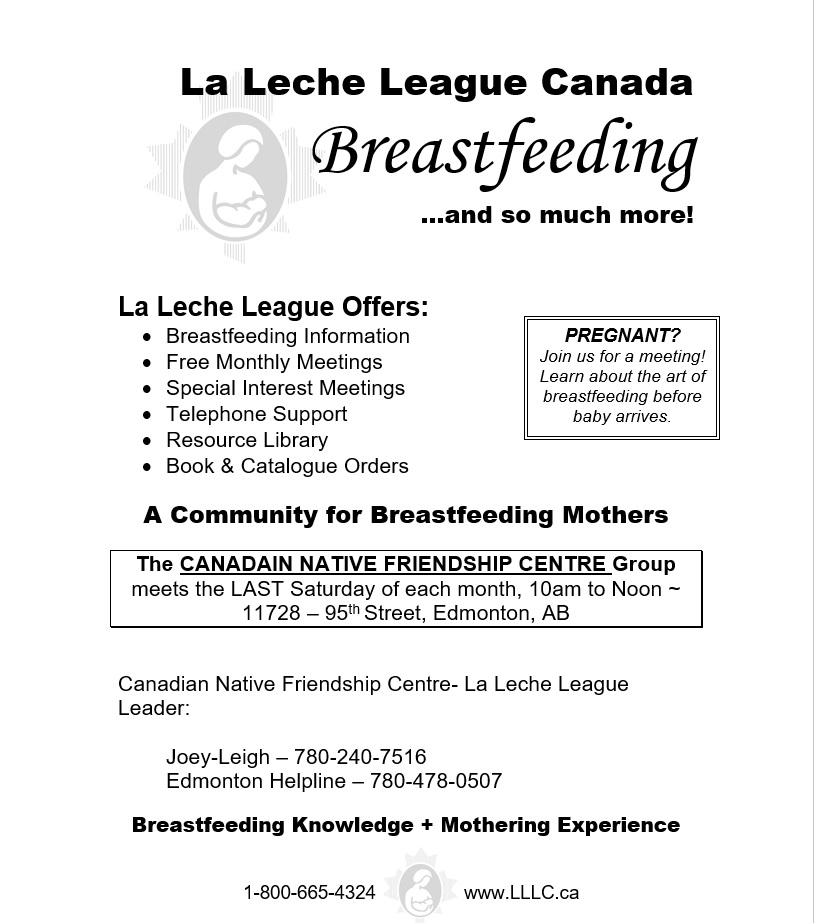 Aboriginal Driver Education Program.
Project Description: To offer Aboriginal drivers support to become competent in traffic safety laws and safe driving procedures. Aboriginal Drivers will receive dedicated study time that will increase their success in obtaining their Learners permit . The program will assist Drivers in addressing the barriers that they may face in obtaining their driver's license.
We had an overwhelming response to the program and we thank all who registered. We will be running several programs beginning December 2016 and into the New Year. We have the contact information of those who registered and you will be contacted by the receptionist Ryan if you are chosen. Thanks
Become a Canadian Native Friendship Centre Member
The Canadian Native Friendship Centre's current memberships will run from April, 2016 to March 31, 2017. Membership cost is $3.00 and will be waived to those who volunteer at one of our Bingo and/or other fundraising events. In order to vote at any General or Special Meeting, including the Annual General Meeting, membership must have been purchased 30 days in advance of the meeting. Annual General Meeting will be scheduled for June 2017, date to be confirmed.
John Humphrey Centre for Peace and Human Rights
Children's Rights & Advocacy within Child Welfare: Edmonton
Details:
The Child Welfare and Youth Justice system discrimination against Indigenous peoples have long been voiced and extensively documented across the province. In 2016 alone, the Alberta's Child and Youth Advocate and the Auditor General released two separate and critical reports detailing the systemic issues that cause and perpetuate the discriminatory policies and practices. The two provincial reports clearly coincided and reaffirmed the findings of the Truth and Reconciliation Commission (TRC). The extension and severity of this problem is not exclusive to the province of Alberta, but also extends throughout Canada and urges immediate action.
Importantly, the TRC Commissioners propose that the application of the United Nation's Declaration on the Rights of Indigenous Peoples (UNDRIP) Articles must be the foundation for reconciliation. The TRC Final Report states that: "Reconciliation requires that a new vision, based on a commitment to mutual respect, be developed...Reconciliation is not an Indigenous problem; it is a Canadian one. Virtually all aspects of Canadian society may need to be reconsidered...Reconciliation will take some time.''
The Office of the Child and Youth Advocate (OCYA), a legislative office in Alberta that is responsible for individual and systemic advocacy for children and youth in the child welfare and youth justice system, has made a commitment to embedding UNDRIP into their operations and actions. In partnership with the John Humphrey Centre for Peace and Human Rights, last year Circle Alberta dialogues were held in the four communities of Pincher Creek, Rocky Mountain House, St. Paul and Edmonton with the intent of renewing relationships and starting to building a strategy for how the OCYA can address these important critical needs.
The John Humphrey Centre (JHC) has just completed the draft report of the "what we heard" and have some initial recommendations. JHC is ready to head back to these communities to share this report and to work together to strengthen the recommendations for OCYA and the province. This work will help us deepen the conversation and build recommendations that are strong, practical and feasible, meeting the need to address the systemic barriers and to enhance the accessibility of services for children and youth in the child intervention and justice systems. Additionally, when we are in the community, we will also plan to deliver a training session on how to use human rights legislation and processes to affect change and support advocacy.
We are inviting the community to a workshop and a call to action on Children's Rights and Advocacy within Child Welfare and Youth Justice.
Wednesday, March 22, 2017
9:00 a.m.-4:30 p.m.
The Canadian Native Friendship Centre
11728-95 Street, Edmonton, Alberta
---
Community Safety
Ending violence against Indigenous women and girls
Let people know that violence is not acceptable.
When someone tells you they have experienced violence, take it seriously.
Create an environment where everyone feels safe.
Recognize violence and stop it.
If you need help, keep asking until you get the help you need.
Let's recognize and support other people who are taking a stand to help others.
Stay alert and tuned into your surroundings.
Take ownership for our action and inaction.
Get someone home safely if he or she needs it.
Stand up to those who tell us it is not our business.